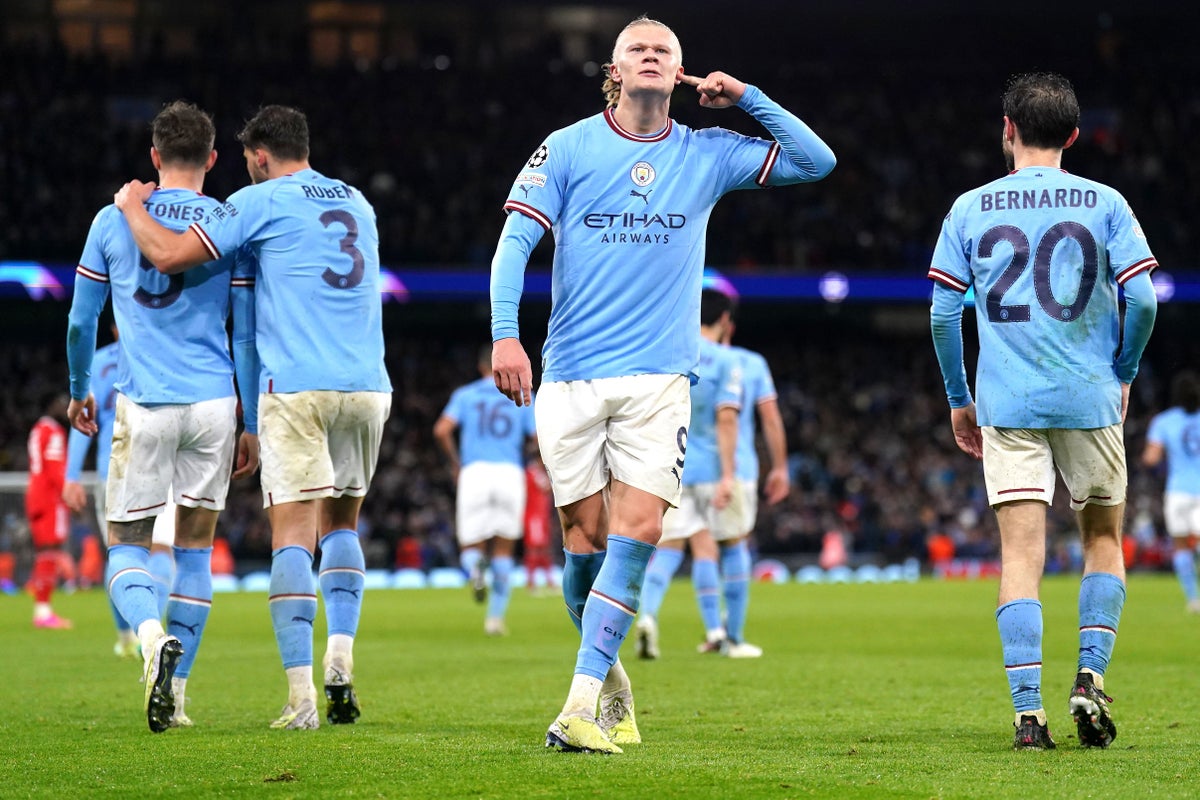 Erling Haaland has set a new record for Premier League players with 45 goals in all competitions this season. Manchester City's Tuesday night Champions League game against Bayern Munich witnessed Haaland surpass the record set by Manchester United's Ruud Van Nistelrooy 20 years ago and later, Liverpool's Mohamed Salah in 2017-18.
Read on as we explore the Norway international's debut season in detail, and discover how he could break more records!
Record breaker
Haaland had already produced the first 30-goal top-flight season since Salah and Tottenham's Harry Kane both achieved the feat five years ago and he now has half as many again in other competitions.
Tuesday's close-range finish against Bayern was his 11th goal in seven appearances in Europe, taking his overall record in the competition to 34 in 26 games – already in the competition's top 20 goalscorers.
In that list he is sandwiched between Edinson Cavani, whose 35 goals came in 70 appearances for Napoli, Paris St Germain and Manchester United, and Fernando Morientes who scored 33 in 93 for Real Madrid, Monaco, Liverpool and Valencia.
Haaland's season tally also includes an FA Cup hat-trick in the 6-0 win over Burnley and a Carabao Cup goal against Liverpool, for a total of 45 in 39 matches.
Half-century in sight
City has 15 possible games left to play this season – nine in the league, the second leg against Bayern followed by a likely semi-final over two legs and a possible final, and an FA Cup semi-final against Championship Sheffield United. With Haaland's impressive one-goal-per-game ratio so far, he could hit an astounding 62 goals if he plays every possible game and maintains his season-long form – just one shy of Dixie Dean's legendary all-time record of 63 goals in 1927-28.
He is just five games away from scoring his half-century, potentially against Fulham at the end of April based on City's current schedule, but given his recent winning streak, the possibility of reaching the magical milestone sooner is not to be discounted.
Haaland has scored 11 goals in his last four games, including a hat-trick against Burnley, two goals against Southampton and one against Bayern. He is set to play against relegation-threatened Leicester next, albeit with a new manager in the form of Dean Smith.
Haaland needs just two more goals to surpass Salah's record for a 38-game Premier League season, and four to match the overall record set by Andy Cole and Alan Shearer in the early 42-game campaigns of the Premier League era. With the remaining weeks of the season ahead, it's possible he will achieve both these milestones.