Frankie Dettori leads The East in Racing League as first jockey-manager
Excitement is building for this year's Racing League competition, offering over £2m in prize money, as Frankie Dettori takes charge of The East as the first ever jockey-manager. He will join Matt Chapman, Leonna Mayor, and Kevin Blake, who have all signed up as managers for another season of this innovative event.
The jockey draft for this year's competition, which includes three-time champion jockey Oisin Murphy, leading jockey Saffie Osborne, and Sean Levey, will take place on Saturday at Doncaster.
Previously, Dettori has emphasized the exciting aspect of the league, stating "Racing League brings something different into racing, and I've really enjoyed being part of it for the last two years. The format adds a fun element while still being ultra-competitive. I will be doing everything I can to be the first player-manager to win it!"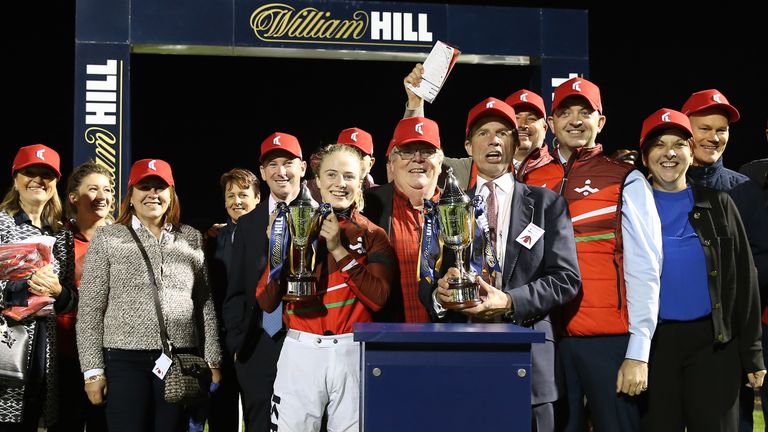 The six fixtures of the Racing League will be shown live on Sky Sports Racing, offering over £2m in prize money. The winning team will take home £50,000 prize money, while the winning team's jockeys will receive a £35,000 prize pool along with an additional £20,000 for the jockey who scores the most individual points over the competition. Each team manager will select seven jockeys via the draft and may add a wildcard selection at any time during the competition.
The East will see Sir Michael Stoute alongside Frankie Dettori, while Michael and David Easterby extend family ties in Yorkshire, and Hughie Morrison adds strength to Scotland. Jeremy Wray, CEO of Racing League, expressed his excitement at the event, saying "We first spoke with Frankie after last year's competition, before he announced that this would be his last year riding, so we are obviously thrilled that he has taken up the challenge of managing The East. Once again, we are delighted to have so many trainers involved, which will make for another fiercely competitive and exciting spectacle."
Don't miss out on the action, as Racing League kicks off the school holidays at Yarmouth on July 27, with Chepstow, Windsor, Newcastle, and Wolverhampton all hosting events before concluding at Southwell on September 13.