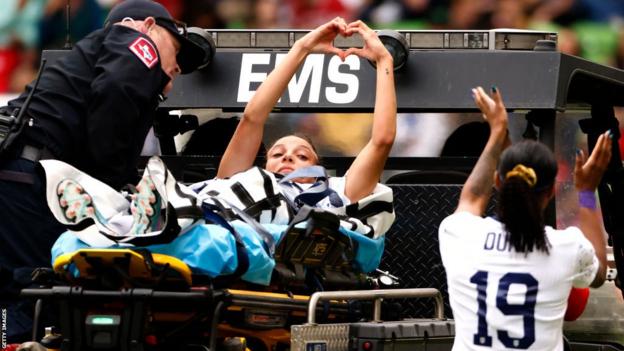 The "leading scorer" of US Women's Soccer Team, Mallory Swanson, risks missing the upcoming World Cup due to an injury
Mallory Swanson, the American soccer star, tore the patella tendon in her left knee, which puts her participation in the Women's World Cup in Australia and New Zealand, starting from July 20, in jeopardy.
The 24-year-old forward is the leading scorer for the US Women's team this year with seven goals in five games.
Reigning champions, represented by the US Women's Soccer Team are scheduled to play their first match against Vietnam in Auckland on July 21.
Swanson has returned to her NWSL club, the Chicago Red Stars for "further evaluation" with no set timeline for her recovery.
She has been replaced by Alyssa Thompson in the US squad ahead of their second friendly against the Republic of Ireland on 11 April in St Louis.
In a previous game, the US team defeated the Republic of Ireland with goals from Emily Fox and Lindsey Horan, ending the Republic's nine-game unbeaten run.