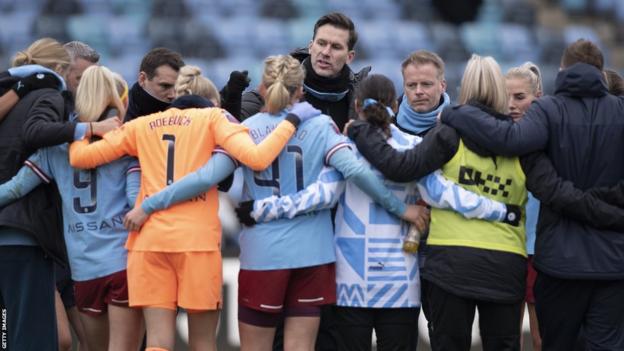 Gareth Taylor, the Manchester City Women's coach, wants his players to have a winning mentality and fighting spirit when they face Chelsea FC in a crucial Women's Super League fixture this weekend. The match is a must win for Manchester City, who are currently third in the table and two points behind the leaders, Chelsea. Success in the Women's Super League is critical if Manchester City is to achieve their silverware goals this season.
Leaders Chelsea have a game in hand and are two points clear of third-placed City, in a four-way title race.
Taylor knows that City's hopes of winning the title could be over if they lose or draw against Chelsea on Sunday.
He said, "We need to win at the weekend. It's as simple as that."
Despite losing to Aston Villa in the FA Cup quarterfinals, Manchester City remains unbeaten in the league since September, when they lost to Chelsea in the reverse fixture.
After a difficult start to the season, City has climbed up the table and is now in contention for the title.
Taylor added, "What an opportunity for us. I want to see the fire in the players' eyes that I am seeing at the moment and the bit between our teeth ready to take on the challenge."
Although Chelsea has a clear advantage, Taylor believes that his team is determined to right their wrongs and win the match.
He said, "A draw is not a disaster, but it can cost you a league title. We know it's an important game for us to win to continue our challenge this season."