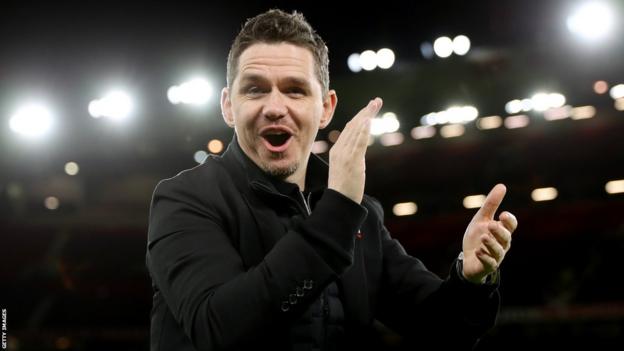 Marc Skinner and his Manchester United have secured the top spot of the Women's Super League (WSL) after Women's Football Weekend. Ahead of Chelsea's game against fellow challengers Manchester City, Skinner is unperturbed by the thought of United being overtaken again. However, his comments about the upcoming match have sparked a debate about who will come out on top.
While Chelsea take on Manchester City, Skinner will spend some much-needed quality time with his daughter. He said, "I'm not nervous. Someone is dropping points, which is good for us. There's nothing we can control tomorrow, so why worry about it."
United fans are thrilled after their team scored four goals in the second half against West Ham, securing their position at the top of the WSL. Despite the 4-0 score, the game was anything but pretty. Skinner admitted that his team was far from their best in the first half but praised Lucia Garcia, who scored two of the goals as a second-half substitute. The manager's reluctance to rotate his squad too much has led to Garcia's limited playing time this season, but Skinner's faith in her paid dividends.
With six games remaining in the WSL season, Skinner and his team will be looking to maintain their top position and claim their first top-flight title. And, while Lionesses Mary Earps and Alessia Russo required physio treatment in the first half, Skinner confirmed they were both fine and smiling after the game.
For now, the focus is on second versus fourth at the Academy Stadium tomorrow, and Skinner rejects the notion that his team has piled



Original Post Link