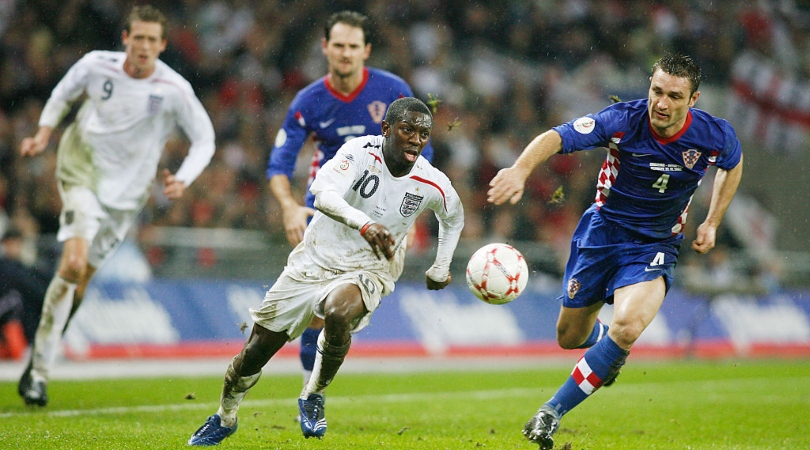 Shaun Wright-Phillips' Heartbreaking Loss in the 2007 Euro Qualifying Round
In November 2007, Shaun Wright-Phillips faced a devastating loss in his England football career. England lost 3-2 to Croatia at Wembley, resulting in their failure to qualify for the Euro 2008 tournament held in Austria and Switzerland the following summer. This loss also ultimately led to the sacking of Steve McClaren, famously referred to as the "Wally with the Brolly".
Starting the game as a winger flanking Peter Crouch, Wright-Phillips, who was playing for Chelsea at the time, was replaced by Jermain Defoe and David Beckham at half-time, with England 2-0 down due to early goals from Niko Kranjcar and Ivica Olic. Despite a second-half rally by England, with goals from Frank Lampard and Crouch, Mladen Petrić's goal sealed the defeat for England, sending them home heartbroken.
"I was devastated"
Recalling the loss, Wright-Phillips told FourFourTwo, "I was devastated. Sometimes, when things like that happen, it hurts so much that you don't know what to do or think. People may believe that you don't care, but it's not that – you're just in shock and hurting as much as they are. It was a horrible feeling, and it took quite a while to recover, especially as it was spoken about a lot during the summer. Watching the games didn't help either, and it made it worse to think that we should've been there. But we all had to dust ourselves down and push ourselves harder."
Hope in Capello
Following the disappointment, Fabio Capello was appointed as the next England manager to lead the talented squad, arriving with an impressive track record of managing successful teams like AC Milan, Real Madrid, Roma, and Juventus. Many hoped that his strict methods would provide the glory and redemption they needed for the World Cup 2010 held in South Africa.
However, as Wright-Phillips describes, things didn't quite work out as expected. The tough training camp in South Africa where families weren't allowed to stay with the players and the strict diet Capello enforced made it a challenging time. Despite this, Wright-Phillips appreciated and admired Capello's ways of coaching and leading the team.
The loss to Germany in the World Cup quarter-finals was another disappointment for the team. Despite Frank Lampard scoring a goal that was wrongly disallowed, the Germans proved to be a tough team to beat with their young, talented players like Mesut Ozil and Thomas Muller.