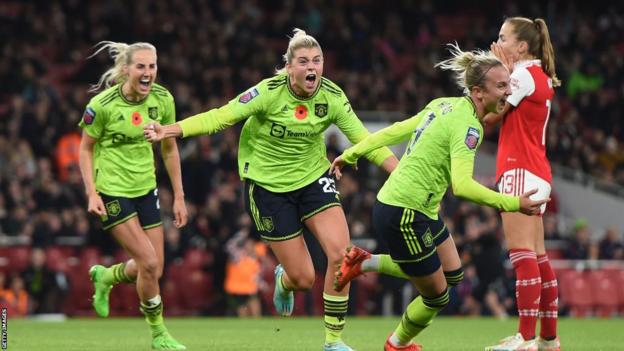 Manchester United manager Marc Skinner finds the scheduling of the Women's Champions League semi-finals "strange" and "in need of review".
Women's Super League leaders United were set to play Arsenal in a crucial title clash on 22 April, but the scheduling will require a change.
The departure of Arsenal in the Women's Champions League and their subsequent match against Paris St-Germain or Wolfsburg on 22 April has caused the scheduling clash.
Manchester United manager, Marc Skinner, expressed his displeasure with the scheduling of the Women's Champions League, stating that "there's space for it to be put somewhere else".
Despite the scheduling conflict, Skinner remains hopeful that United fans, who have a reputation of being very dedicated, will still attend the game.
Manchester United, who won a crucial game again Arsenal last night, highly value their fans, and Skinner emphasized the importance of their presence in the game.
Skinner also stated that adapting the league schedule could have its consequences, and he believes that the scheduling conflict "should be looked at".
The Women's Champions League plays the group stages on weekdays, whereas, the semi-finals are scheduled for the weekend of 22 and 23 April, and the final is played on Saturday 3 June.
Currently, Manchester United, who are leading the Women's Super League by three points, have a game in hand against Arsenal, who are fourth-placed.

Original Post Link